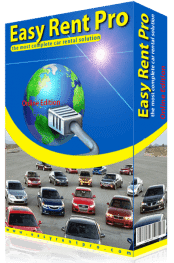 Version 4.1.5.7 Release Date: 2022-01-03

EasyRentPro – Cloud is released as a shareware. You may use a demo version for evaluation without any limitation. The demo version has the same functionality as the full version except that it is only accessible for 30 days. To make permanent use of the software you are requested to purchase a license that matches your fleet size.
If in the future your fleet size exceeds your license vehicle limit you can always purchase an upgrade that will adjust the number of the maximum vehicles allowed by the system.
Important Information The EasyRentPro – Cloud version requires an online server that must be accessed through the internet. Our Annual subscription fee includes the hosting of your data on our secure server.